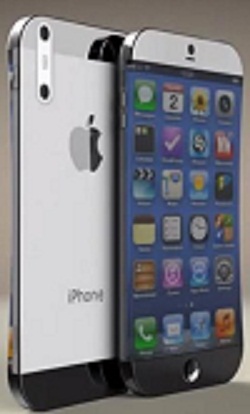 If the iPhone 5s and iPhone 5c were surprising enough in their respective worlds, what's going to be different with the upcoming iPhone 6 supposedly to be released next year (2014)?
As always, we can only speculate based on rumours circulating all over tech sites; and based on what we think we know according to what others believe they know too, here are what to expect with the yet to be launched iPhone 6.
Release Date
Based on the history of previous releases which often falls during the last quarter of the year, we can assume that the iPhone 6 will be released around September of next year. Otherwise, it may be around June where other important Apple announcements are made.
Design
Due to the innovation present with the plastic and smaller iPhone 5c which was intended to wage war with cheap Android devices, we just might see potentially larger iPhones which may well battle it all out against phablet (phone + tablet) gadgets. There are also rumours of multiple iPhones to be allegedly released next year including the iPhone Math or iPhone+ which may potentially be units with larger than usual screens ranging between 4.7 to 5.7 inches all the way up to 6 inches which is rather oddly too large. The iPhone 6 is supposedly being tested with a 4.9 inches screen according to an insider scoop from China's CTech. Most sites resort to Chinese sources anyway since Apple's units are often assembled in this side of the East.
Most also agree that the next iPhone version may be curved or even bendable/flexible featuring unbreakable OLED panels, following Samsung's footsteps.
If this sounds too farfetched, wait till you hear about liquidmetal. It's made from an alloy of titanium, nickel, copper, and zirconium plus a number of other metals. The end product will make any casing light, scratch resistant and tough. Apple had been working with Liquidmetal Technologies since 2010 and recently with GT Advanced Technologies. The latter is a frontrunner in researching and testing the potential of sapphire crystal for mobile phones.
Screen
Several Android phones possess 1080p full HD screen resolution. The iPhone shouldn't be anywhere behind the race. High resolution screen can be possible through the retina and Sharp IGZO (Indium Gallium Zinc Oxide) display.
What about 3D? With 3D slowly becoming a household name through various devices such as TV and even in some phones as well as over the web (like YouTube 3D), iPhone may soon adapt this feature but no one can tell whether it will be through the iPhone 6.
Storage
iPad already boasts of as much as 128GB storage space, so why not apply the same feature in an iPhone, in this case, the forthcoming iPhone 6?
NFC
It should be just about time for NFC technology to be present in iPhones since several Android phones already have it in effect.
Finger Scanning
Speaking of technology, the 6th iPhone may probably feature Apple's finger print touch ID scanning which is already available in the 5s.
iOS8
If the 5c was considered a flop by many as much as the iOS7 caused all too many issues and may soon be forgotten, I'm betting on a new operating system, the iOS8.
Processor
How about an improved A7 processor or an all new A8? We will soon find out.
Camera
Some suggests the release of a 13MP camera with a motion technology that's photographer friendly.
Gaming Ready
With several gamer friendly phone units in the market these days, will Apple join the bandwagon? Apple's recent acquisition of PrimeSense, a chipmaker from Israel developing 3D sensor technology for appliances and mobile gadgets, may pave the way for gaming technology in phones similar to what the Xbox's Kinect controller can accomplish.
Wireless Charging
Apple has pretty much filed patent for everything thinkable when it comes to mobile tech including wireless charging. It's doubtfully going to be possible anytime soon but who knows if we'll see it in the next iPhone model?
Finished Product
With all too many rumours and speculations, we are yet to find out whether the iPhone 6 becomes a phablet, a curved phone, or simply with a larger screen. See you next year when it's unveiled so we can review these notes and find out which predictions had been realised.