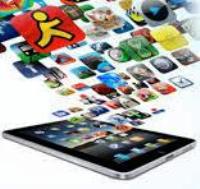 Got a new iPad for Christmas and wondering which applications to download? Our list of the top 10 free iPad apps may help. This is based on Apple's 2013 report of the most downloaded applications at the App Store for iPad owners.
Candy Crush Saga
Let me refer you once again to our previous post Candy Crush-ed 2013! for more information about this application. You may also check out the iPhone counterpart of this blog entry. See Meet the Top 10 Free iPhone Apps as per Apple.
YouTube
Similar to iPhone, YouTube also lands the second spot for iPad devices but it was not included on 2012's list. YouTube provides access to countless user uploaded videos on various genres.
Temple Run 2
Also amongst the most downloaded in iPhone devices, the second installment of the hit running game Temple Run remains popular for iPad owners. Temple Run 2 is a variation of the first in terms of challenges, goals, and overall theme.
Calculator for iPad Free
Not to be mistaken with last year's Calculator Pro, Calculator for iPad Free offers the basic and scientific calculator in one application so you won't have to carry around the actual bulky calculator device.
Skype for iPad
The previous year's number one drops to this spot. It's still one of the most downloaded for iPad though. Skype allows users to chat or call (plain audio or with video) with people within their contacts list.
Netflix
Streaming movies is "in" these days whether it is directly through video sharing websites or actual movie streaming portals online. Movie lovers are even willing to pay just to watch free flicks and this is what Netflix is for. The app can be downloaded for free but to view movies and TV shows from the app, a subscription is required.
Despicable Me: Minion Rush
The successful Despicable Me movie franchise returns with a sequel and a video game through Despicable Me: Minion Rush. Dave the minion, this game's main character, is well loved for both iPhone and iPad that it's among the most downloaded for both devices this year.
iBooks
Kindle may be missing in 2013's list but an alternative, iBooks, is the flavour of the year. This apps links to the iBooks Store, where users can download books of all genres including current bestsellers and the classics. With this app, you can build your own library, read books, flip pages, and bookmark your favorite sections.
Facebook
Although this social network is still the number one in its industry, there's a lot to improve when it comes to the mobile app version. Most users will agree that loading time is rather slow and it's faster to simply head over to your device's native browser and key in m.facebook.com.
The Weather Channel for iPad
The Weather Channel is not only popular for iOS but for Android devices as well. The app features weather forecasts with maps and radar of countless locations worldwide.
Missing in action this time around as compared to 2012's list include Draw Something Free, Kindle, Pandora Radio (although it's included for iPhone), Angry Birds HD Free, and Calculator Pro for iPad Free. On the other hand, we welcome newcomers Calculator for iPad Free, Despicable Me: Minion Rush, iBooks, and the runaway winner Candy Crush Saga.
Haven't downloaded some of the top 10 free iPad apps here yet? Visit iTunes App Store today!